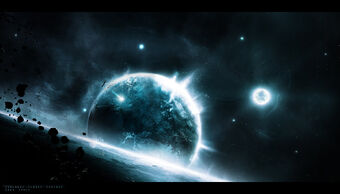 Welcome to the Animus wiki! This is where you, the reader of the Animus Web Serial, will find a library of information about the Animus universe.
"Animus" is a science fiction story set in Earth's own future. The story begins in September of 2193, where the galaxy has been torn apart by war, and most people suffer under the rule of a tyrannical Civil Triumvirate.
This wiki was launched in December of 2011. The web serial itself was launched on August 29th, 2010. Readers may notice a lot of "red links" on the wiki. The red links signify an article that does not yet exist, but has been linked to an existing article, so that future contributions can be made. Readers of Animus, feel free to contribute to any articles that exist, or to create new articles if you feel so inclined.
Featured Article
[
]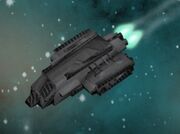 The current featured article is for CSC Lilith's Omen.
The CSC Lilith's Omen was a heavily modified Class-Three Corvette designed by the Marso-Deka Corporation. It was stolen by the Freedom Coalition from a Marso-Deka shipyard during an operation in 2165.
Previous Featured Articles

[

]
Latest activity
[
]